Make your bathroom smell like it's never been used!
Do you ever get that feeling that your bathroom could use a little more…fragrance? Well, never fear! There are tons of ways to make your bathroom smell delicious all the time. From adding a few scented candles to your setup, to using essential oils, there's sure to be a method that works out for you. Keep reading and discover 10 ways to make your bathroom smell amazing!
CLEAN WHENEVER YOU CAN
In order to avoid unwanted smells, the first thing to do is prevent them from happening! You may ask how.. Simple! Make sure you maintain your bathroom cleanliness and take every free moment you have to do so.
Householders who are tight on time but still want their bathrooms to smell nicely should take the opportunity every time it comes around. A quick wipe down of your sink or toilet can make all the difference between having a sparkling and perfumed bathroom or a smelly one!
USE A SMALL DIFFUSER TO DRIVE AWAY THE SMELL
A small diffuser is the perfect solution to make your bathroom smell like new. It can be powered by heat, air or sonics and it's filled with an essential oil blend that will make whatever you put on top come alive and spread a wonderful aroma in your bathroom.
GIVE SCENT PACKETS A CHANCE
If you're looking for a long-lasting fragrance to make your bathroom splendid, try out a scent packet. They come in different shapes and sizes so they can be placed anywhere without worrying about plugging or spilling any essential oils!
Fresh Home Cleaning has a special preference for vanilla scented packets! This is why we listed it in our top 10 ways of making your bathroom smell good!
DO NOT NEGLECT YOUR DUMP TOWELS!
We know your bathroom is really important to you and, as Marie Kondo says: "The objective of cleaning is not just to clean, but to feel happiness living within that environment."
One of the 10 ways to achieve this goal can be by making sure there aren't any wet towels hanging around. If they happen to be dirty or haven't been washed yet, take them off so that their smell doesn't spread all over your bathroom.
FRAGRANT SOAPS ARE THE KEY
It's time you spoil yourself and buy your favourite fragrant body wash. From roses to vanilla, there is a wide variety of scents and fragrances to choose from that will make your bathroom smell just like that!
You may even get the same effect by using bath bombs or scented bubble bath, so what are you waiting for?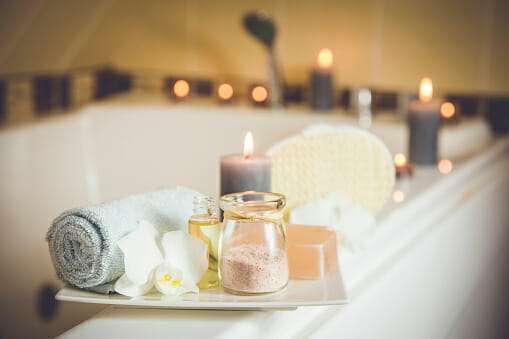 KEEP IT VENTILATED
When it comes to the smell of a bathroom, you can't beat fresh air and light. Keep the windows opened so that way there's always enough ventilation for all those perfumes!
If you're not blessed with bathroom windows, don't worry! Use a fan and remove the excess of moisture with it. Provide more air for cleaner smells!
BUY AN ODOR AND MOISTURE ABSORBER
The best way to make your bathroom fresh and clean is by using odor and moisture absorber products. You can find these small, affordable devices at the local dollar store at a very low price! Though they're not pretty in looks, they will prove themselves useful when you need them most – so go get them before it's too!
HERBS EVERYWHERE!
Mother nature is always taking care of us, even when it comes to cleaning! So to keep your bathroom smell free, we strongly recommend planting some strongly scented herbs around your bathroom. If you have a window near, that's the spot to make lavender or mint grow! Follow our advice and thank us later- these flowers will fill up with fragrant oil as they grow into beautiful decorations in no time at all!
If you want to get fancy, it's a beautiful idea to place a dried bouquet of eucalyptus under your showerhead and take the bath of your life!
TAKE CARE OF YOUR TOILET TANK
The battle to keep your toilet from stinking up the place is not an easy one, but it's not impossible either. You just need to put some fragranced laundry detergent or fabric softener in the toilet tank and voilà! Whenever you flush the toilet, a nice fragrance will emerge from the water.
JUST TAKE OUT THE TRASH
Another important step to fighting bathroom smells is by taking out the trash regularly, even if it's not full. Sitting stagnant waste only brings more stench!
You can also add a few drops of your favorite essential oil in the trash when you take it out. The scent will stick around for a while and make things more cheerful around there!
Maintaining your house clean and hodor-free is a dreadful task and you don't need to do it alone! Fresh Home Cleaning is always here for you. We provide thousands of families with industry-leading services that are tailored to their specific needs.