Stainless steel appliances are probably a purchase that you will never regret. They are noble, easy to maintain, and give your kitchen a pristine modern industrial look that is hard to achieve. But sadly, we all know what happens once time goes by and they become dull, full of rust and marks. Time is cruel and your appliances know it. This is why learning how to clean stainless steel appliances is so important!
Removing rust and spots from stainless steel to transform your kitchen
When you buy your oven, refrigerator, dishwasher, microwave, and sink, and they are new and shiny, you want them to stay like that forever. But life gets in the way, use, years, scratches, stains and rust appear. But what would happen if I told you that it is possible to make them return to their original state? What can you do to make your appliances and your entire kitchen look like out of a magazine?
At Fresh Home Cleaning we'll teach you how to clean stainless steel appliances and remove rust from stainless steel. Just stay reading with us!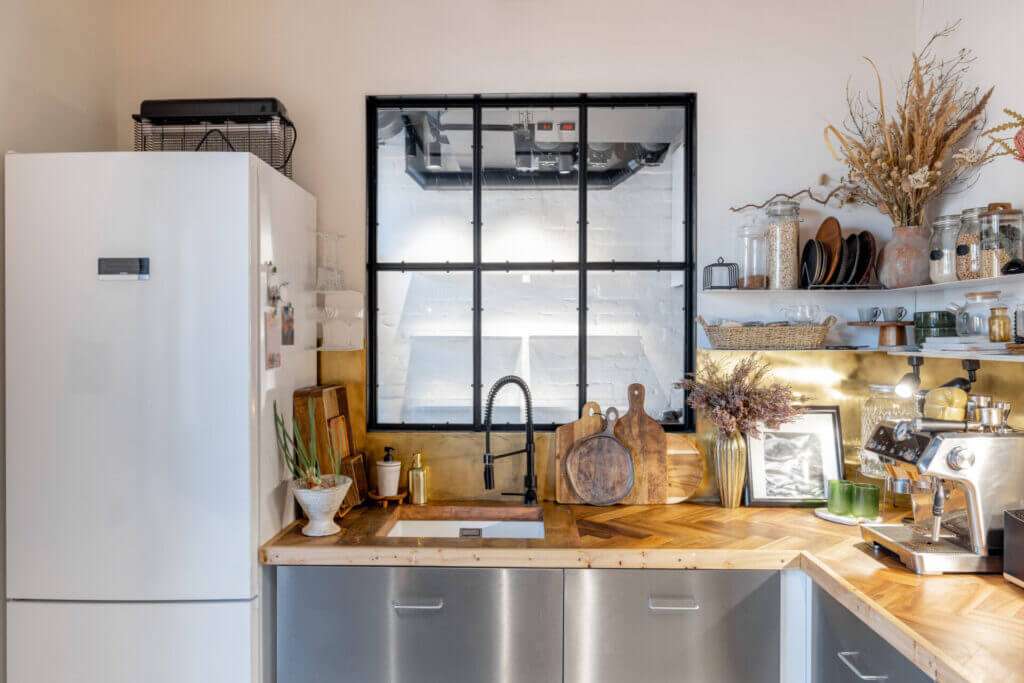 What you must NOT do
Before starting with the cleaning process, you must be aware of the things you shouldn't do because otherwise, you might damage your appliances.
Do not use abrasive products such as scouring powder, scouring pads, bleach
Never use the metal part of your sponge to clean the steel surface, use the smooth side to avoid scratches.
Instead of letting your appliances dry on their own after you've cleaned them, try buffing them with a microfiber cloth. This way you will minimize small spots and they will be shiny.
Remove rust from stainless steel with eco-friendly products
If you're into a greener cleaning routine, then you should definitely think about replacing your industrial cleaning products with these homemade options so that you'll avoid unknown solutions in your kitchen:
By using 1 teaspoon of dish soap mixed with a gallon of hot water, you'll get a perfect solution for wiping your stainless steel surfaces with a microfiber cloth. Just like that, you'll eliminate not only grease stains and bacteria but also any other cleaning product left behind. After you wipe it all, you may rinse it with hot water only and dry it quickly with a clean rag.
You can apply a very small amount of mineral oil to the surface of your appliances (do not use any vegetable-based oil) to prevent fingerprints and goop stains.
Did you know that you can use a window cleaner too? Use one without ammonia or vinegar, and clean the entire surface. Once ready, rinse and dry with a clean cloth.
In order to remove rust from stainless steel, you may want to try baking soda. Use a damp cloth with a little baking soda on it and gently rub it against the spot of rust.
How to clean stainless steel appliances
Although how quickly they get dirty can be a bit scary, actually, once you learn how to clean your stainless steel appliances, doing so is very quick and easy. A great tip to do it more efficiently is to use an appropriate cloth. That is, it is made for the task. Also, if you supplement with good cleaning products, it shouldn't take you more than a couple of hours to get the whole work done.
There are 3 key steps in this process:
Clean
Buff
Polish
All three of them are equally important, and you must perform them with care and dedication. Our cleaning services staff will give you their tips and tricks to do it the right way in every appliance in your house.
REMEMBER: Before starting, review the factory instructions for each of your appliances, and thus avoid damaging them.
So without further ado, here's how to clean stainless steel appliances:
Clean stains and fingerprints!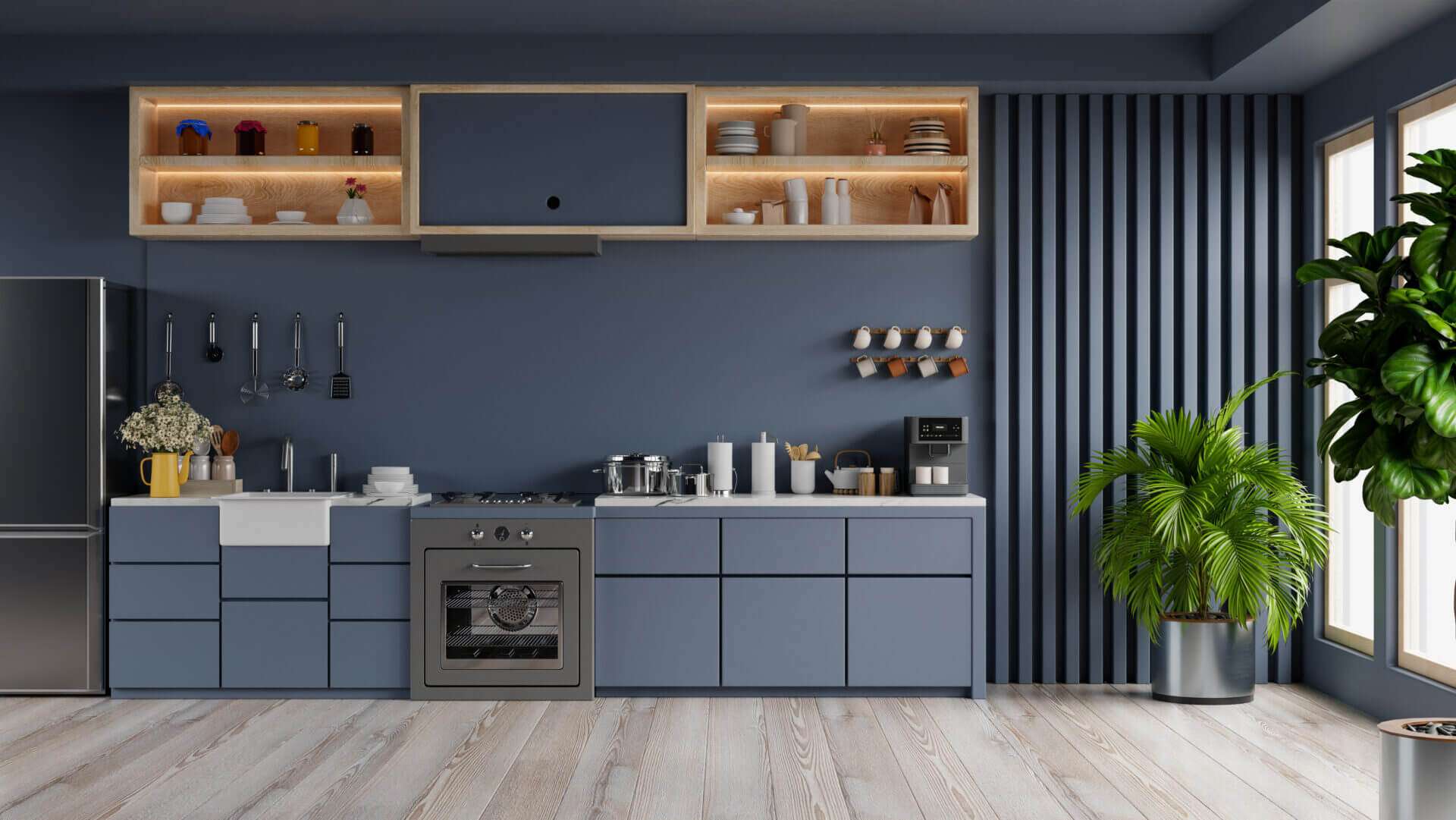 First of all, define the cleaning solution that you will use. As we said before, you can opt for dish soap or mineral oil, or also, an industrial cleaning product suitable for this specific task.
Once you have decided that, with a damp cloth and the product, go over the surface of your appliance in the same direction as the metal grains. Remember to follow the instructions behind the cleaning product!
Tips and tricks for buffing
Once you're done with cleaning and letting your appliances dry, it's time to buff. We know this is probably the worst step of all, it requires time and hard work. But trust the experts, it's worth it.
Use sandpaper between 150 and 240 grit, and progressively go up to 1200 grit to round out your progression. Set your sander between 4,000 and 6,500 RPM for buffing stainless steel. Be very careful, each time you change the sandpaper, move about 90° with respect to the previous movement.
This step is essential so that everything, your steel countertop, your refrigerator, and your sink, has a perfect finish. You will be able to see your image reflected in them. We know that it is an arduous task at home, but believe us, it is worth the effort. And if you don't think so or you can't find the time to do it as you would like, don't hesitate to call our cleaning service to achieve a mirror-like finish.
Once you see that you have finished, that is, your stainless steel appliances are impeccable, without scratches or stains, move on to the next phase.
How to polish scratches out of stainless steel
This last step is fortunately much easier and more fruitful because you will really see the results of all your work.
First, you must clean any remains from the previous process with a dry cloth. Then, if you plan on doing this by hand, with a good industrial polish and a dry cloth you should be good to go. Pass the rag in circles over the entire surface, as if you were going to wax your car. Once you're done, make sure you wipe away any excess polish with a clean and dry towel.
In summary…
Our professional cleaning services staff has delivered you a thorough guide on how to clean, polish, and remove rust from stainless steel appliances.
If you're busy with work and personal responsibilities, don't hesitate to contact us. At Fresh Home Cleaning we're glad to do it for you.
Call us at 301-979-7554 and get a free consultation!
See more cleaning guides
A short guide to learn how to deep clean your kids room
How to clean a mattress perfectly in 8 simple steps
World Book Day 2023: How to clean your home library
How To Clean Upholstered Dining Chairs: An Expert's Guide
How to clean blinds and curtains: A Specialist's Guide
How to Clean Matte Painted Walls from Top to Bottom
How to Clean Prefinished Hardwood Floors: The Definitive Guide
How to clean quartzite countertops: a beginner's guide
How to clean your couch and make it look brand new!
How to Remove Grout for a Flawless Tile Refinishing Project
How to clean your walls the right way: Tips, Tricks, and Much More!
How to clean your desk and Maintain a Healthy Work Environment
How to clean fast and efficiently every part of your house
How to clean your windows? A Step By Step Guide!
How to clean your fridge in 43 easy steps
Mastering the Art of Cleaning Carpet on Stairs: A Step-by-Step Guide
How To Clean Kitchen Cabinets In Just A Few Steps
Learn how to get rid of mold in your house to keep it fresh and clean
Cleaning Electronics 101: Everything You Need to Know
Best clean bathroom ideas: How to clean the bathroom step by step!
DIY Carpet Restoration: How to Fix Matted Fibers Like a Pro