We know you hate to clean your fridge, but it's a necessary evil.
Have you ever looked at your fridge and thought, "Wow, I really need to clean this thing?" It's always such a hassle to learn how to clean your fridge and it seems to never really get perfect. But do not fear! Fresh Home Cleaning is here to show you how to clean your fridge in just four easy steps.
Want a perfectly and completely cleaned kitchen? Then roll up your sleeves and let's get started!
Step 1: Say goodbye to your leftovers
It won't take you long to figure out which products are rotten and which can still be eaten. So place a trash can nearby and proceed to throw away everything that is no longer edible and makes your refrigerator dirty and smelly.
If you like to take care of the environment and want to make your cleaning routine more sustainable, you can find recycling and compost centers near your home and take everything that is admitted there.
Step 2: Scrub once, then scrub again
By Mixing vinegar and water you'll have the perfect cleaning solution to eliminate every little spot or dirtiness on your fridge. Learning how to clean your fridge is no easy task due to the usual mess of it. This is why knowing that you can DIY a mixture with just two items that you probably have at home is a lifesaver.
At Fresh Home Cleaning we like to spray it all over the fridge and let it rest for about 5 to 10 minutes. Remove shelves and drawers and then scrub them with a big sponge or brush and voila! Then, wipe it with a mop and water and any unwanted spot will be fastly removed.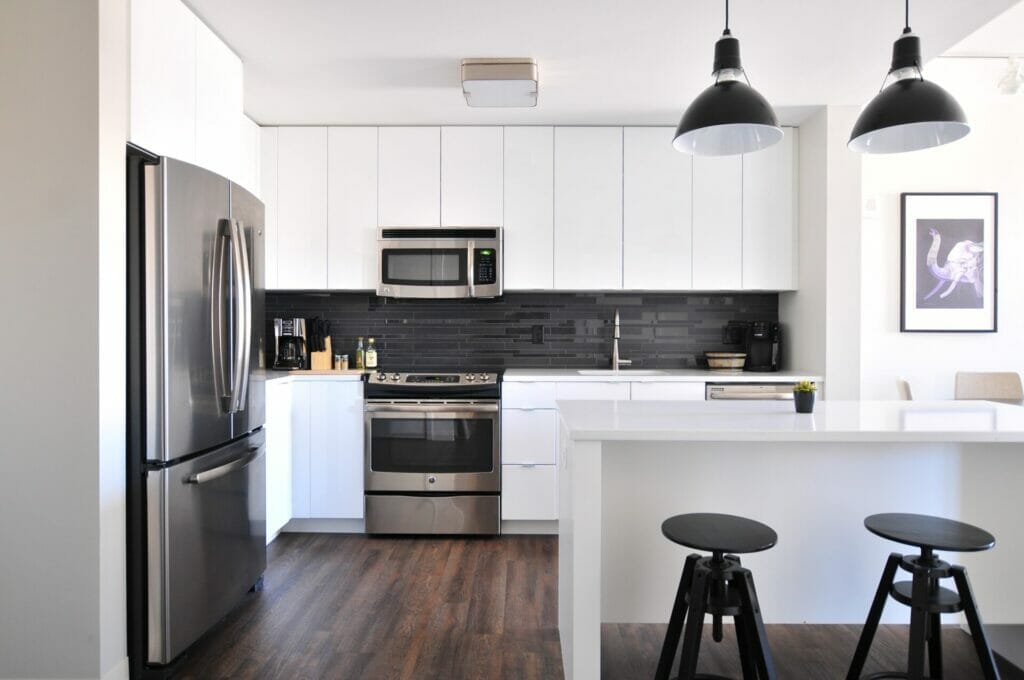 Step 3: Make plans and organize your refrigerator
This is probably one of the most important parts when it comes to clean the refrigerator. Unfortunately, if you want to keep a clean fridge and clean your kitchen the right way, you must label and organize it all.
A good way to do it is by putting meals and items that you'll use in the short term on one side or shelf of the refrigerator, and condiments on the other side. Putting labels on your food is an excellent idea to know when something is getting rotten and it's time to say goodbye to it.
Step 4: What about the door?
It's time to give your fridge a good scrub, and you'll want to have all the cleaning tools for this job. For starters: vinegar and water (the same mixture used before). With those two ingredients in tow we can get rid of any dirt or dust on your refrigerator doors- just make sure not to use them near food!
The next thing to do is using microfiber cloths which works well because they're soft against surfaces while still being able to pick up lots more grime than traditional brushes. Lastly comes spraying away with clean water when everything else has been scrubbed down already. And this is it!
FAQs:
Why is it important to clean your fridge?
A: It is important to clean your fridge to maintain a clean and hygienic kitchen environment, prevent food contamination, and ensure that your food stays fresh and lasts longer.
What are the steps to clean your fridge?
A: The four easy steps to clean your fridge are: empty the fridge, remove shelves and drawers, clean the interior with a solution of warm water and mild detergent, and replace the shelves and drawers.
What are some tips for cleaning the refrigerator?
A: Some tips for cleaning the refrigerator are: using a soft cloth or sponge to avoid scratching the surface, avoiding the use of harsh chemicals, and wiping down jars and bottles before returning them to the fridge.
How often should you clean your fridge?
A: It is recommended to clean your fridge at least once a month to maintain a clean and hygienic environment.
Can a professional cleaning company help clean your fridge?
A: Yes, a professional cleaning company like Fresh Home Cleaning can provide a thorough cleaning of your fridge, using the latest cleaning techniques and products to ensure that it is cleaned to your satisfaction.
If you're in the market for a good, deep clean, look no further than Fresh Home Cleaning. Our staff will scrub your floors, shelves and cabinets until they shine, and they won't stop until your fridge is completely free of any unwanted bacteria and smells.